Gabe Rey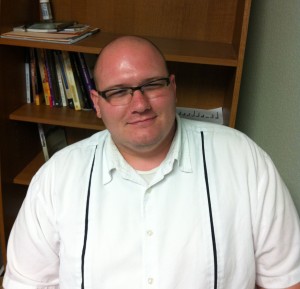 Gabe Rey is our interim minister of Youth. He holds a Bachelors of Theology with a minor in youth ministries. He has served as a youth pastor in North Carolina and has led college ministries as well as young adult ministries.
Gabe has a passion for youth ministry and loves that God allows him to use his life to influence young people for Christ.
Gabe is married to Angela.
What is one of the things you love about serving at SOBC?
I love having the opportunity to see the eyes of young people opened to the goodness and greatness of God!
What do you like to do for fun?
I'm a big movie fan! I like to play video games and love playing sports.
What are your favorite foods?
ALL OF THEM! Seriously, Carolina BBQ is God's gift to fans of pulled pork. Cuban food is God's gift to taste buds!!!!
On Saturdays, I am most likely to be…
Sleeping in…    Spending time with my Beautiful Wife or on a youth activity…
My ideal vacation would be…
West Virginia or Alaska or Colorado or California or did I forget to say that I love to travel.
A family tradition that is especially dear to me is…
Noche Buena… it is the Hispanic celebration of Christmas Eve.  Being half Cuban I grew up celebrating Noche Buena.