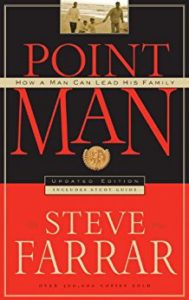 Point Man by Steve Farrar
This bestselling classic encourages and equips Christian men to lead their families successfully through hazards and ambushes like divorce, promiscuity, suicide, and drug addiction. Men will find practical insight on topics such as a father's influence, maintaining purity, and husband-and-wife teamwork. In this war, renowned men's author Steve Farrar emphasizes, Jesus Christ is looking for men who will not die, but live for their families.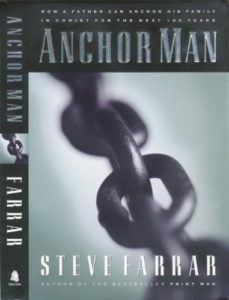 2. Anchor Man by Steve Farrar
If you thought your parenting responsibilities ended after eighteen years per child, you thought wrong. Instead, it's your privilege to lead your family-and influence succeeding generations-for a century…or more.
Anchor Man presents the high calling of fatherhood, the traits of a Christian father, the adventures that await him as he interacts with his children, and the significance of his role as a good family man. Steve Farrar presents these roles and responsibilities in a way any man wanting to increase his understanding of his place in the family, and our society, can put into action every day.
Anchor Man encourages, exhorts, and demonstrates with biblical concepts how to raise a godly family and how to anchor that family in Christ for the next one hundred years. Farrar's unique teaching style blends humor and practicality with the tools fathers need to become all that God intended them to be as the leaders of their families.
"When a man gets serious about following Christ with his whole heart," Farrar says, "God desires to not only pour out His blessing on that man, but on his children, and his children's children.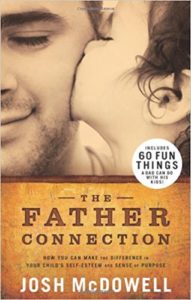 3. The Father Connection by Josh McDowell
Updated and redesigned for a new generation of dads, Josh McDowell's ECPA Gold Medallion Award winner The Father Connection looks at ten parenting qualities inspired by the ultimate model of fatherhood. Embracing these godly characteristics will make all the difference in a child, boosting self-esteem and sense of purpose, helping him or her to:
• Feel loved and secure
• Develop a reputation of integrity
• Know their dad keeps his promises
• Stand up to unhealthy peer pressure
• Avoid drug and alcohol abuse
• Save sex until marriage
• Desire their father's counsel
• Admit when they're wrong
• Come to their dad in times of trouble or hurt
• Admire and respect their father as their parent